Strandhotel at Weissensee
Hotel & Apartements at Weissensee Lake
First vegan-vegetarian organic 4****S hotel in Austria

Enjoy a summer like in the good old days. Back then when the wealth of nature was enough for our happiness.

We are grateful to the elders of this amazing place, Weissensee lake, who knew that the most important good they had - the good, they needed to take care of and leave it unharmed for inheritance to their children and grandchildren - was the preservation of the natural beauty and uniqueness of this space.

Today you are able to enjoy just that - intact nature, a turquoise-blue-green lake with drinking quality for you to bath and offload all you need to release, healing forest air rich with terpens strengthening your lungs and immune system. Is there anything you need beyond?

Well, excellent organic plant-based food goes along just well with this setting.

Whatever your wishes to your stay are - we believe we may be able to match them all.... be it a nice romantic double bed room or suite in our hotel, be it an appartement for you and your family or even a whole lake house with its own private lake access suited to accomodated a large family of a group of friends - we will be happy to provide you with all our services!

Welcome to Strandhotel am Weissensee!
Our accomodations
for every phase of your life
Hotel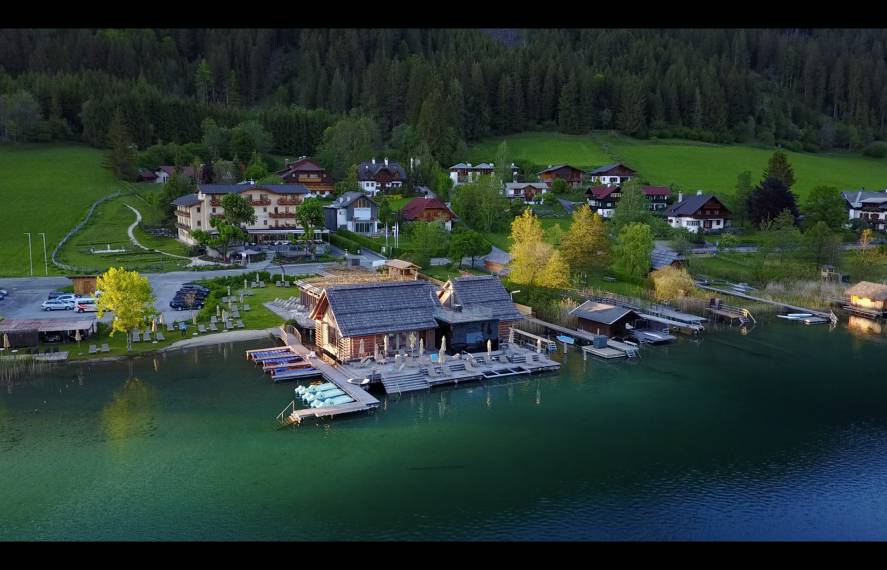 Give yourself a treat
Enjoy and relax. Surrounded by nature you can treat yourself with all formidable gifts Mother Earth provides to us. Food for your body is prepared exclusively from organic and mostly plant-based ingredients. Dairy products are limited to small manufacturers with highest quality standards of organic production. Food for your mind and soul awaits you in our library, where a selection of our favourite books may provide for inspiration, together with our tea-bar and games for spending a pleasurable time in our living room area. Or perhaps you'd rather just enjoy the most beautiful spa of Weissensee?
To the hotel
Apartements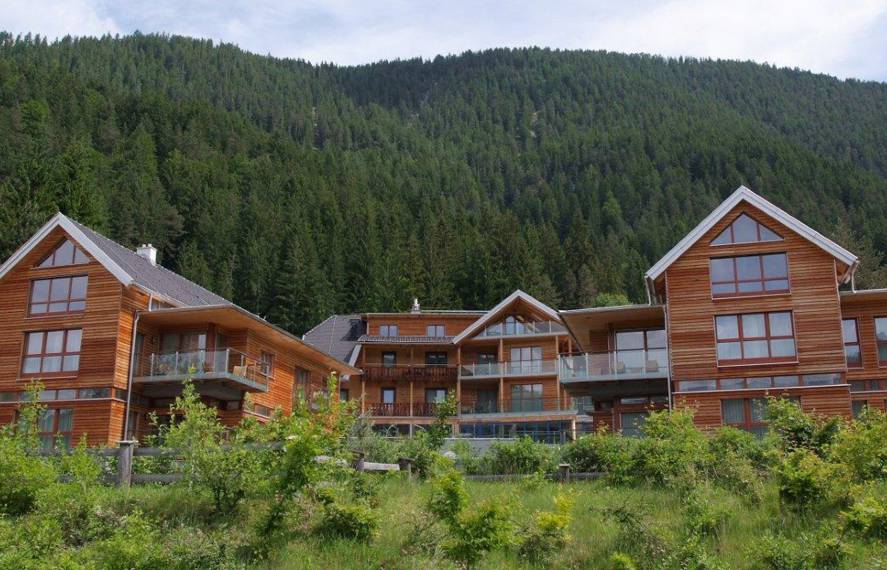 Feel at home - just better
Cozyness, independence and ampleness - this is the offering of our apartements. The lakeside garden and boat house are waiting for you with their beautiful scenery, relax zones, a private lake-access and an exclusive sauna are with lake-view. Families and children also love having fun in our indoor pool.

Should you want to treat yourself to a delicious organic menu at our restaurant or a relaxing massage at our spa - do let us know. Our restaurant and spa are in walking distance - only 200m away. We recommend to make a reservation.

We love to serve you!
Lake House

Exklusivity & Privacy
The unique setting our our lakehouse with its exclusive handpicked furniture and its spacious facilities joined by a fantastic view over Weissensee with its beautiful colours in total privacy is the best way to provide a treat to yourself and your beloved ones. It provides all you may possibly need for an enjoyable and relaxed holiday with family and / or friends. The house provides a spacious living area with lake view, a "stube" which is the local interpretation of a dining area, an open space kitchen, three double bedrooms of which one is extremely spacious with an own living area, two bathrooms, three toilets, garden, terrace and its own bathing hut. Pure Exclusivity & Privacy.
To the Lakehouse
Discover the gifts of Mother Nature

At Strandhotel am Weissensee, the first vegan-vegetarian organic 4****S hotel in Austria!
Enjoy & discover Strandhotel at Weissensee
Themes & More
Strandhotel at Weissensee
We look forward to seeing you in person!
We are very happy to offer you the unique frame of our mountainrange, our lake and our forests - we like to call it our playground of nature - for your personal me-time. Time has become more and more valuable. We need need time for ourselves. Time away from loudness, time into nature, peace and quiet. Feeling oneself again. Feeling the joy of being. Enjoying the simple - and at the same time - most beautiful things in life.

At our Strandhotel at Weissensee you can do that in every season - because every season has its own magic. The frozen see in winter is delightful to look at and fun for all who like to skate on ice. Every day starts with soft movement sessions in our meditation room or in our Room of Conscious Being. The snow-capped mountains invite to ski, do cross-country skiing, go sleigh-riding or hiking with skiers.

We are blessed with the most beautiful lake-spa of Weissensee. It invites you to reload and heat-up before you enjoy the blissful cool water of the lake - let go and relax.

Enjoy reading the interesting books from our library with a cup of tee from our samowar of a nice hot drink from our barista in our cosy living room.

Or pamper yourself to one of our retreats - für your journey within.

This is your first time?
Try our Griass-Di Package and get to know our paradise!