Strandhotel at Weissensee
Hotel & Apartments at Lake Weissensee
First vegan-vegetarian organic 4**** hotel in Austria

Enjoy a summer like in the good old days when the beauty of nature was enough for our happiness.

We are grateful to the generations of locals who recognised and lived up to their responsibility of taking care of their inheritance and preserved this unique place of natural beauty for their children and grandchildren. Thanks to them, you are still able to enjoy those things: intact nature, a turquoise-blue-green lake with drinking water quality, healing forest air strengthening your lungs and immune system.  It goes without saying that high quality organic plant-based food complements this setting.

We offer a range of different types of accommodation. You may opt for one of our suites for a cosy or romantic weekend away. Alternatively, one of our newly renovated apartments might be the better fit because you may wish to enjoy a holiday together with your closest family, having the choice of self-catering but with the luxury of our hotel close at hand. Finally, you may wish to rent our lake house with its own access to the lake allowing you to enjoy a quiet retreat with your extended family or a group of friends.
We aim to cater for your needs, wishes and dreams. Thanks to our location and the spacious nature of our accommodation, we are able to provide privacy as well as a safe environment to enjoy your holidays.
We are looking forward to welcoming you!
Our accommodation
makes your wishes reality
Hotel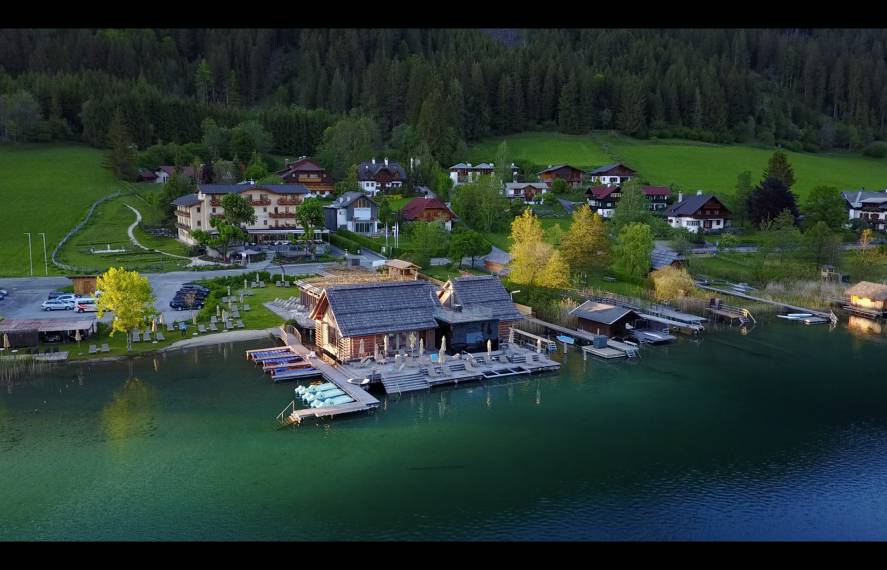 Indulge Body, Mind and Soul
Unwind and enjoy being pampered. Surrounded by natural beauty, we are happy to share the gifts mother nature gives. Explore our library with our favourite books, our tea bar, and probably the most beautiful lakeside spa at Weissensee.
To the hotel
Apartments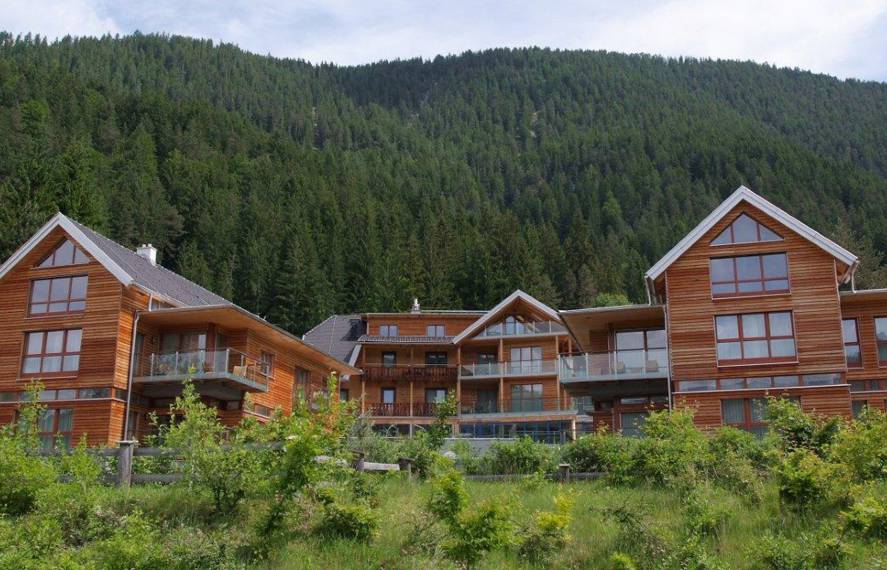 Feel at Home
Cosy and yet spacious apartments which offer independence. Enjoy your own access to the lake via a generous meadow which invites our guests to linger and to soak up the energy from the lake and the sun. Our boathouse has its own sauna open to our apartment guests. Should you want a special treat, you may choose to dine or enjoy breakfast in our restaurant - only 650ft from your accommodation (prior reservation required).
Lake House

An Exclusive Retreat
A lovingly decorated house in a unique location, and quiet surroundings with direct views of the lake. The perfect setting for your holiday with family or friends. The cabin consists of a spacious living room with lake view, a kitchen diner, three bedrooms, two bathrooms, three toilets, garden, terrace as well as its own lakeside cabin and access to the water.
To the Lakehouse
Discover the Gifts of Mother Nature

At Strandhotel at Weissensee, the first vegan-vegetarian organic 4**** hotel in Austria!
Enjoy & Discover Strandhotel at Weissensee
Strandhotel at Weissensee
We look forward to seeing you in person!
We are very happy to offer you the unique frame of our mountainrange, our lake and our forests - we like to call it our playground of nature - for your personal me-time. Time has become more and more valuable. We need need time for ourselves. Time away from loudness, time into nature, peace and quiet. Feeling oneself again. Feeling the joy of being. Enjoying the simple - and at the same time - most beautiful things in life.

At our Strandhotel at Weissensee you can do that in every season - because every season has its own magic. The frozen see in winter is delightful to look at and fun for all who like to skate on ice. Every day starts with soft movement sessions in our meditation room or in our Room of Conscious Being. The snow-capped mountains invite to ski, do cross-country skiing, go sleigh-riding or hiking with skiers.

We are blessed with the most beautiful lake-spa of Weissensee. It invites you to reload and heat-up before you enjoy the blissful cool water of the lake - let go and relax.

Enjoy reading the interesting books from our library with a cup of tee from our samowar of a nice hot drink from our barista in our cosy living room.

Or pamper yourself to one of our retreats - für your journey within.

This is your first time?
Try our Griass-Di Package and get to know our paradise!