Strandhotel at Weissensee
Hotel & Apartments at Lake Weissensee
First vegan/vegetarian organic 4 star hotel in Austria

Enjoy a summer like in the good old days when the beauty of nature was enough for our happiness.

We are grateful to the generations of locals who recognised, and lived up to the responsibility of taking care of their inheritance and preserved this unique place of natural beauty for their children and grandchildren. Thanks to them, you are still able to enjoy those things: intact nature, a turquoise-blue-green lake with drinking water quality, healing forest air strengthening your lungs and immune system.  It goes without saying that the high quality organic plant-based food complements this setting.

We offer a range of accommodation types. You may opt for one of our suites if you plan a cosy or romantic weekend away. On the other hand, if you wish to enjoy a holiday together with your closest family, one of our newly renovated apartments might be a better fit. It gives you the choice of self-catering but with the luxury of our hotel close at hand. Alternatiely, you may wish to rent our lake house with its own access to the lake allowing you to enjoy a quiet retreat with your extended family or a group of friends.
We endeavour to do our best to cater for your needs, wishes and dreams. Thanks to our location and the spacious nature of our accommodation, we are able to provide privacy as well as a safe environment to enjoy your holidays.
We are looking forward to welcoming you!
Our accommodation
makes your dreams come true
Hotel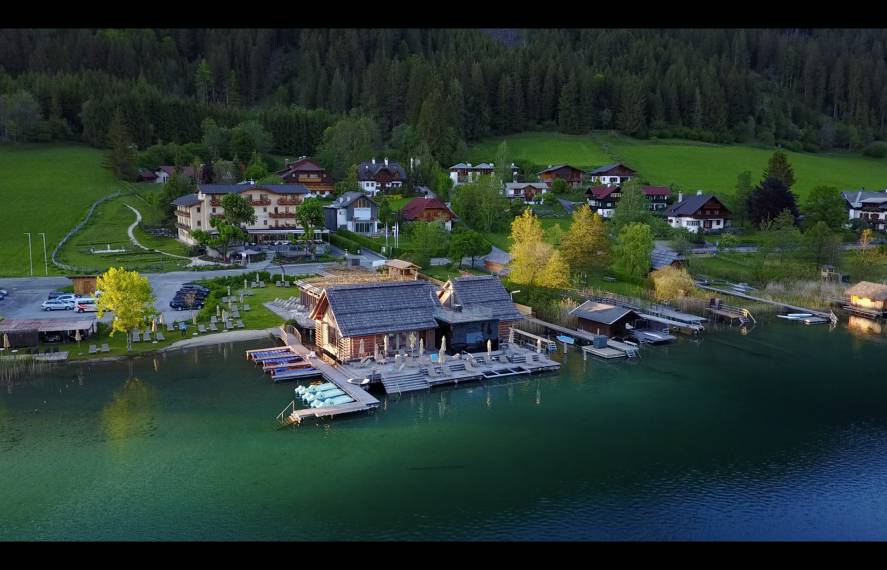 Indulge Body, Mind and Soul
Unwind and enjoy being pampered. Surrounded by natural beauty, we are happy to share the gifts mother nature gives. Explore our library with our favourite books, our tea bar, and probably the most beautiful lakeside spa at Weissensee.
To the hotel
Apartments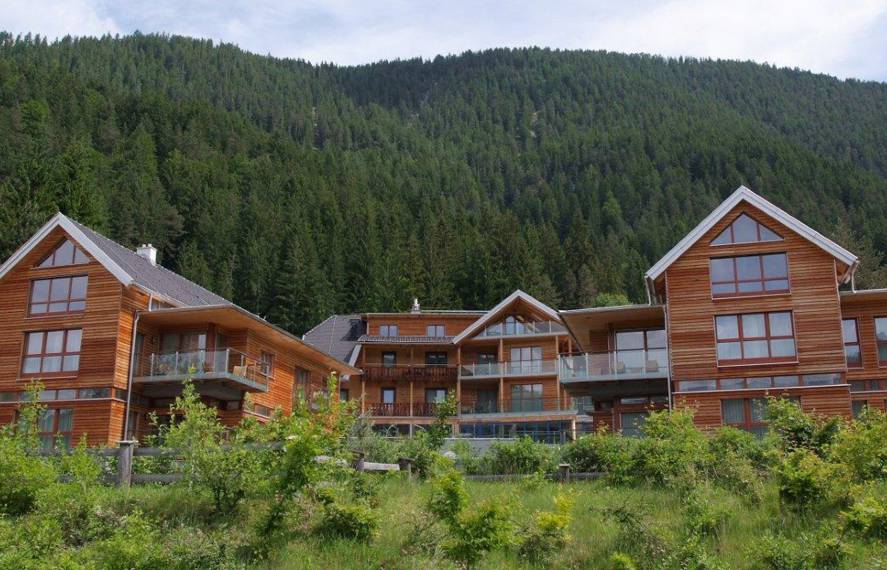 Feel at Home
Cosy and yet spacious apartments which offer independence. Our lakeside meadow provides access to the water while also allowing our guests to linger and to soak up the energy from the lake and the sun. Our boat house has its own sauna open to our apartment and lake house guests. Should you want a special treat, you may choose to dine or enjoy breakfast in our restaurant, only 650ft from your accommodation (prior reservation required).
To the appartements
Lake House

An Exclusive Retreat
Our lakehouse offers a unique setting for a relaxed holiday with family and /or friends. Situated in total privacy, with exclusive handpicked furniture and spacious facilities, this house provides all you may possibly need for an enjoyable and relaxed holiday with your loved ones. The accommodation consists of a spacious living area with fantastic views of lake Weissensee, a "Stube" - the local term for an open plan kitchen-dining area - , three double bedrooms one of which is extremely spacious with its own living area, two bathrooms, three toilets, garden, terrace and its own boat house.  
To the Lakehouse
Discover the Gifts of Mother Nature

At Strandhotel at Weissensee, the first vegan/vegetarian organic 4 star hotel in Austria!
Enjoy & Discover Strandhotel at Weissensee
Strandhotel at Weissensee
We look forward to meeting you!
The beautiful surroundings made up of mountains, forests and the lake create the perfect place for some "me-time".  Time has become a precious commodity. We feel an increased desire to take time out for ourselves. Time out from the noise in life, back to nature, and peace and quiet. To feel at one with oneself. To feel the joy of being. To enjoy the simple - and yet most beautiful - things in life. 
At lake Weissensee each season has its own magic. The crystal-clear lake with drinking water quality provides pleasure for body, mind, and soul. In summer you may wish to start your day with a swim in the lake before enjoying some yoga. We often organise yoga or meditation sessions for our guests to greet the new day.
In winter, the surrounding area offers completely different pleasures such as ice skating on natural ice, skiing, sledging or snowshoe hikes.
Our lake side spa offers a refreshing experience whatever the weather and season. You can warm up in one of our saunas before cooling down by jumping into the lake from the jetty. Feel refreshed and relaxed!
Have you never been with us?
Why not book the "Griass Di" Welcome Package to get to know us better?