Your place for a TimeOut
The perfect accommodation whatever your needs
Time has become a precious commodity. We feel an increased desire to take time out for ourselves. Time out from the noise in life, back to nature, and peace and quiet. To feel at one with oneself. To feel the joy of being. To enjoy the simple - and yet most beautiful - things in life. At the Strandhotel this is possible any time of the year.
The beautiful surroundings made up of mountains, forests and the lake are unique.

We offer two types of accommodation to make all our guests feel at home, no matter what their specific needs are. You can choose between all-round service in our hotel or rent one of our apartments.
Every phase in life brings new opportunities. Our amenities make us the perfect partner for your holiday at lake Weissensee in Carinthia. You may wish to spend some time with your partner or friend, in which case the all-round service in our hotel would be the perfect fit. Alternatively, you may want to have a laid-back stay with friends or family in one of our homely apartments. You can still opt to enjoy meals in our hotel as and when it suits you.
Welcome at the Strandhotel and Apartments at lake Weissensee!
Hotel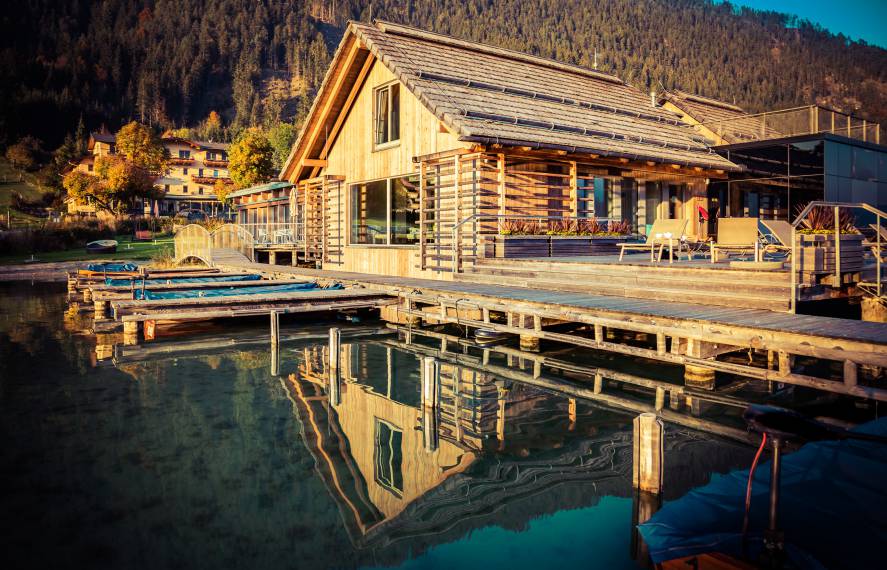 Indulge Body, Mind & Soul
Unwind and enjoy being pampered. Surrounded by natural beauty, we are happy to share the gifts mother nature gives. Explore our library with our favourite books, our tea bar, and probably the most beautiful lakeside spa at Weissensee.

Hotel accommodation
Apartments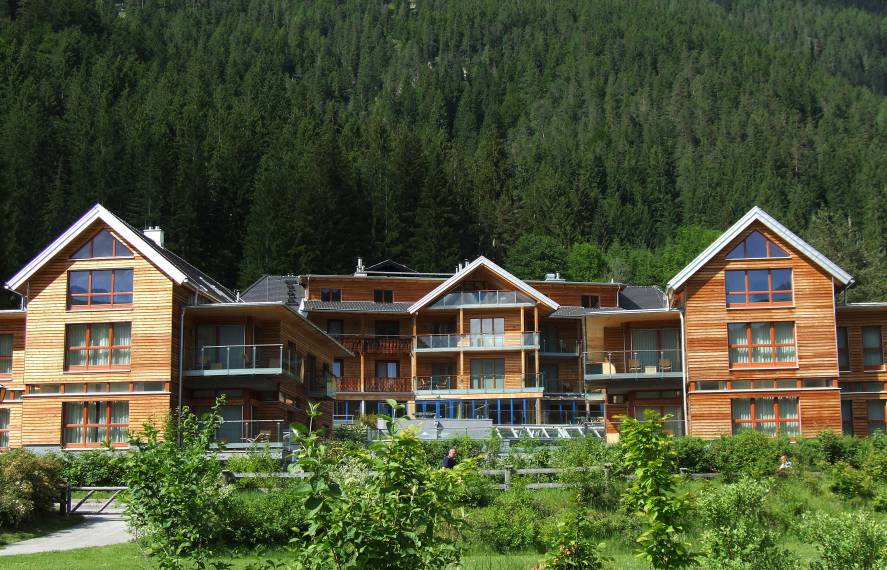 Feel at home
Cosy and yet spacious apartments which offer independence. Our lakeside meadow provides access to the water while also allowing our guests to linger and to soak up the energy from the lake and the sun. Our boat house has its own sauna open to our apartment and lake house guests. Should you want a special treat, you may choose to dine or enjoy breakfast in our restaurant, only 650ft from your accommodation (prior reservation required).
To the Apartments
Lake House

An exclusive retreat
Our lakehouse offers a unique setting for a relaxed holiday with family and /or friends. Situated in total privacy, with exclusive handpicked furniture and spacious facilities, this house provides all you may possibly need for an enjoyable and relaxed holiday with your loved ones. The accommodation consists of a spacious living area with fantastic views of lake Weissensee, a "Stube" - the local term for an open plan kitchen-dining area - , three double bedrooms one of which is extremely spacious with its own living area, two bathrooms, three toilets, garden, terrace and its own boat house.
To the Lakehouse